What is Information Architecture (IA)
The very simple answer, Information architecture is to design and organize of content, pages and data into a simple and easy structure understanding of a system for users. A well-organized system enables users to more users friendly and useful to finding the information they required and complete the conscious tasks.
The structural design, labeling system, easy finding search, and good navigational systems of any products or site is called information architecture. Information Architecture is a part of UXD process.
To create an effective information architecture you have to understand the proper relationship between the content and the ability of computer systems or software you are going tomake ready. Thus a flow or hierarchy is often connected with Information Architecture that allows users to understand where they are and where they need go for next.
The great example of information architecture is Customer Relationship Management (CRM). Because it is summarize in taking of raw data and transforming it into something as useful in a proper way.
How to create Information Architecture
Categorize and structure of Information
In the beginning, Information architect create information system usable and findable content with simple and easy structures from complex sets of data or information to find user friendly for end users. For any new product or system, the information architect identifies the changes that need to be done and creates a plan to make them happen.
Represent of Information
At the time ofarranging of content information into structured and easy way, Information Architect also needs to do research on what users want actually and whatthey are looking for. Once Information Architect read the user's mind then that is very easy to design any product or system make usable and useful for any website or application. After many research on information process the information architect able to learn and visualize mental models of users that how they use of a product.
Well Navigation Systems
Before designing of any product or system,information architect is the main key person which responsible to determine about how information will be defined with a simple and proper structured wayacross the website or application for target based users.
Suppose, in an organization they want their end-users need to associate with search on their questions related to FAQ.
However, they might have determined during research that users expect a FAQ to live under a service or product section. Here, information architect has to be decided about how o populate the structure there to achieve both of the goals.
Therefore, these tremendous decisions create the structure for the rest of the site or application. Finally information architect create and illustrate sitemap as low fidelity prototype on hierarchy of content for such product or system.
Finding and Managing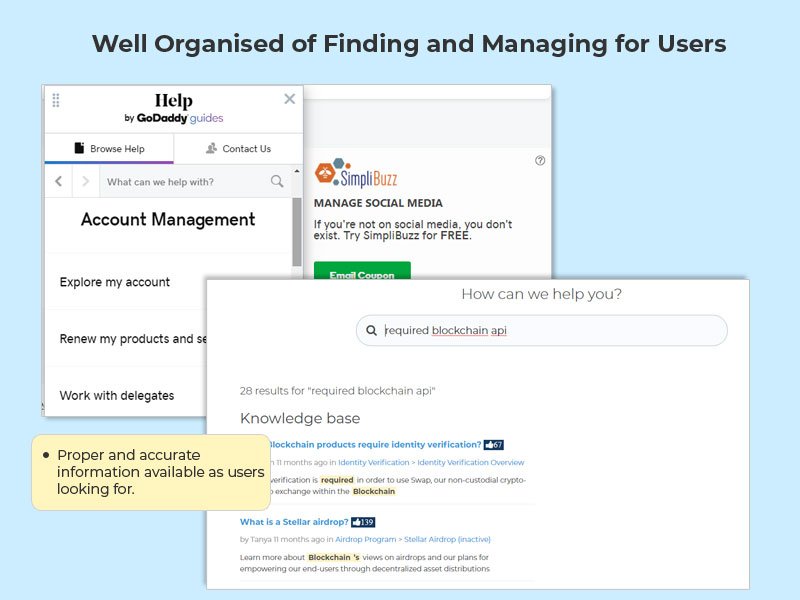 Finding proper information and to manage information system is a fight in most of the organization due to lack of not available proper and accurate information as they are looking for.
Suppose, you have in-house retail store, you need to get noticed at least for a week and will see many complaints will come in front of you if we will ask in a question way;
How many customers do you lose because they can't find the product they want on your web site?
How many customers don't get their order in the right time?
How many customersask for proper service support for existing customers because they confused in your website navigating system and online technical-support database?
How many customers asked for refund process?

So, overall not only these issues but also many things need to be sorted and aligned and arranged in a proper way to make the system better and easy. No one can do in a better way as information architect do in a professional manner.
Labeling
Once an IA makes that decision, they also need to decide what the section might be called. Labeling means what we call pages and linking on a site or application that ensures the navigation and hierarchy to appropriately titled that help the users will be able to find information in a better way.
Labels play a significant role in the information architecture system. So from this we get information need to be proper organized with properly labeled to best suit the needs for targeted user.

Suppose, take an example
There is a web page and title contains information "About Us" is more accurate and easily understood talking about the company if it'll be labeled rather than "Company History".
Wireframing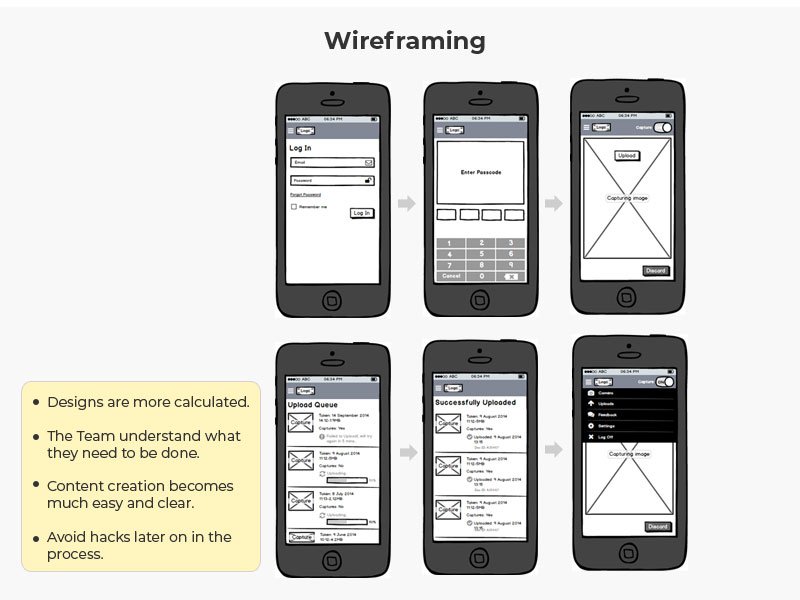 Wireframe is the blue print version of product or system. That is sketched or outlined in a single color. Wireframe does not contain any real graphics or multiple colors or design using placeholder for images and dummy content need to be shown in the wireframe. After proper navigational research done information architect creates wireframes to highlight the hierarchy of information that is based on information gathered during research and hierarchy creation.
Why Wireframe created by information architect
Because wire-framing saves time and money in a several way such asit provides information about time, cost, resources need to be used to make the product or system. More so,
Designs are more calculated.

Development and design team understand what they need to be done.

Content creation becomes much easy and clear.

Avoid hacks later on in the process.
Taxonomies
Organizing and classifying the information and features is called taxonomies. It is based on similarities and differences of the concepts behind those. Taxonomies come in various ways such as in the categories of a news site, in sections of corporate website, or might be meta data or cloud tags especially in ecommerce, news or media sites. Taxonomies based on mental model of the target audience for any product or systems whether it is a website or mobile application this basically how people grouping into similar types of content or information together.
Data Modeling
Data modeling or content modeling this is very important part of information architecture based content strategist. Data modeling basically followed by information architect with stack developers to determine the structured content and represent and defines:
User needs and goals,

Business logic and requirements,

Internal editorial practices for the entire process

In the case of mobile application development or website development new data models will often followed and mapping with existing structures to convince a quick and easy content migration. These types of work mainly done in excel spread sheets or CSV files and implemented directly into content management system (CMS) in the backend.
Conclusion
From this blog as we know, good information architecture is the foundation of good and better user experience because well organized and structured content provides a product usable and useful for end-users.At UXD Media, we have expert UX Designers and Information Architects they work efficiently to meet customer's need.
By Editorial Team,
UXD Media
Date: 19/09/19